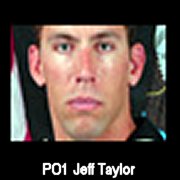 In honor of Navy Petty Officer 1st Class Jeff Taylor, 30, of Little Creek, VA who was killed while conducting a rescue operation in Afghanistan on June 28, 2005.
"My husband was a warrior and a man who believed his purpose in life was to defend the freedoms that each of us enjoy today."
- Erin Taylor
Read Jeff's tale
HERE
.
Strength:
Shoulder Press
3RM with Bands
Skill Work:
Push Press
Chose a weight that allows you to get 15-20 reps
WOD:
"J.T."
(Click to watch a Video Demo)
21-15-9
- Handstand Push-ups
- Ring Dips
- Push-ups
Post weights and time to comments.